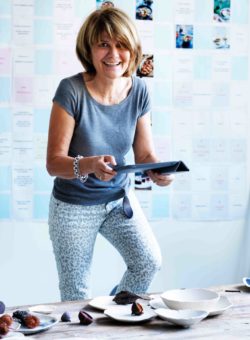 Marie-hélène Clauzon is a highly respected food stylist in Australia.
She has worked for the finest food magazines and publishing houses for over 2 decades. Her French origins give her a love of food and her artistic family a natural talent to make things beautiful. Food styling has enabled her to combine her passions and skills into a wonderful career…
Most recently she has embarked on making ceramics to use in her own line of work.
"I somehow couldn't find the pieces I wanted but I could visualize them, so it was just a natural progression to start creating my own. I was after a handmade, yet earthy  refined look, perfect with its imperfections if one can say…                          I started rolling the clay like pastry and suddenly it all happened. That process allowed me to add different textures to the clay and also gave me the possibility to use many of the tools I use in cooking…. there was a synergy taking place between all the things I love and I was hooked…"
Having studied Art and Ceramics in London it didn't take her long to refresh her ceramic skills and come up with the style she was after, producing pieces that both complemented food and caught the light beautifully. With her background in styling and photography she has developed a natural sense of shape and colour and creates pieces that have a raw simplicity and elegance in their design.
Her organic ceramics provide such beautiful framing for food that they have been adopted by other well known stylists and Marie-Hélène's creations have already appeared on the covers of  Elle Decoration UK, Gourmet Traveller, Home Beautiful Australia, Delicious magazine Australia and UK, House & Garden Australia, Women's Weekly magazines and cookbooks, Mind Food, SBS Feast Magazine, Country Style Magazine, Cooking Light USA, Mark Best Cookbook  and other soon-to-be-released cookbooks. Her ceramics can be found in exclusive design stores in Sydney and the main prop hire places in Sydney and London.